Lightning rods. Farm gates. Tractor-powered washing machines. And, manure-resistant farm boots. Those were just a few of the products Paul Lessing helped his clien­­ts market back in 1907 when he founded his ad agency, Lessing-Flynn, in Greater Des Moines (DSM).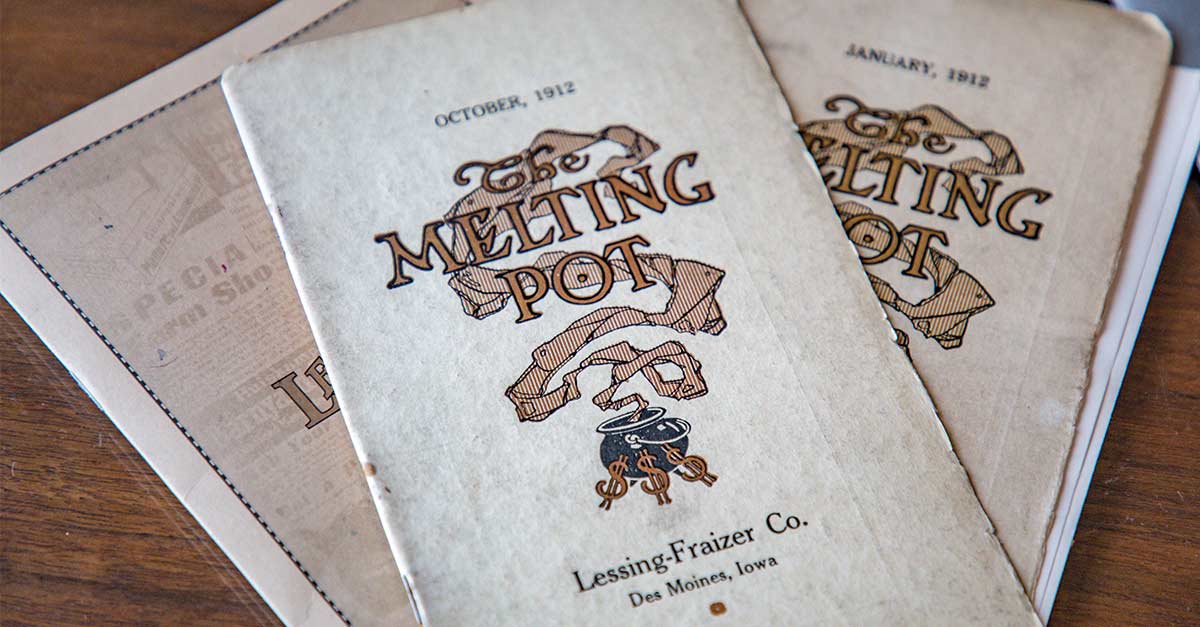 Through 111 years and four generations, it's hard to imagine an industry that has experienced more change than marketing and advertising. In 1907, there was no television. No radio. No internet. No mobile phones. No Google. Even printing was primitive compared to today's standards. So how is DSM still the home of one of the oldest ad agencies in the U.S.? It would be easy to say we've just been smarter marketers and business people than all of the rest. But, I'm pretty sure that's not the case. The right answer? Business doesn't happen in a vacuum, and DSM offers a unique combination of qualities that have made it easy to start and grow a business.
Talent
Our employees are graduates of no fewer than eight different Iowa-based colleges and universities. They come from both big state schools and smaller liberal arts colleges, bringing a diversity of perspectives critical to creative thinking. DSM has always been a big draw for graduates looking to start their careers. Being able to tap into the wealth of young talent from across the state has helped us stay ahead when it comes to understanding how to apply new technologies like social media and digital marketing to client marketing strategies.
Creativity
If you look around DSM today, you see creativity everywhere. We have city planners and civic leadership that have been forward thinking, revitalizing a once overlooked Downtown, making it the hub of a diverse, vibrant city. We have world class events, venues and attractions (think Downtown Farmers' Market, Des Moines Arts Festival, Des Moines Art Center, Pappajohn Sculpture Park, Des Moines Performing Arts and much more) that create a quality of life that attracts ambitious, creative thinkers. Add to that creative entrepreneurs that have built businesses that have attracted top talent in industries ranging from insurance to agribusiness to media and publishing to franchising to health and nutrition.
Work ethic
It may be stereotypical, but Iowa's heritage in agriculture is still evident in the work ethic of its people. Farmers have always been some of the hardest workers in the world, as their livelihood depended on them getting their crops planted and harvested within narrow windows of time. That meant often working seven days a week and 18 hours a day when push came to shove. We see that same work ethic in our people (although the hours are much better). Even many of those who didn't grow up on farms have family roots in agriculture. Besides the willingness to put in whatever time necessary to get things done, farmers (and our team members) aren't afraid to wear many hats. There aren't many places that have a workforce with a built-in work ethic like DSM.
Authenticity
People may chalk it up to "Midwestern friendliness," but it's bigger than that. There's a certain humility and selflessness that makes DSM unique. Don't get me wrong, we have our share of strong leaders. But for the most part, people here are more interested in getting things done than they are getting credit themselves. Pick up the phone and there's a good chance you'll be able to reach some of DSM's most well-known leaders. If not, you're likely to see them contributing their time for charities, on community boards or wandering around at the Iowa State Fair. Business leaders in DSM are approachable and accessible. That leads to collaboration and a more fluid business environment.
Today, Lessing-Flynn has been fortunate enough to work with some of the most innovative companies in Iowa, attract clients from as far away as Indiana, Texas and Washington and attract a growing, talented team of marketing professionals from across the Midwest. This has been in large part because of the growth and reputation of DSM. And speaking for a four-generation ad agency that has called DSM home for 111 years, I can say that we look forward to what will happen next!
(This content was originally posted with the Greater Des Moines Partnership blog).